Canada's Quality of Life Hub is currently in development. We need your help! If you have ideas or thoughts for what you'd like to see on the Hub, Statistics Canada would love to hear about it. Your input is invaluable as we continue to develop the Quality of Life Hub.
About the Quality of Life Framework for Canada
The Quality of Life Framework for Canada aims to measure what matters most to Canadians, to help drive evidence-based budgeting and decision-making at the federal level.
The Framework was developed in 2020/2021 through meetings and consultations led by the Department of Finance Canada. It was publicly released in Budget 2021 – Annex 4: Gender, Diversity, and Quality of Life Statement, alongside the report Measuring What Matters and federal budget investments aimed at strengthening national datasets and better incorporating quality of life measurements into decision making and budgeting. The intention is that the Framework will remain evergreen and evolve over time to capture important issues as they emerge.
Most recently, as outlined in the President of the Treasury Board Mandate Letter (December 2021), the Treasury Board Secretariat (TBS) has assumed leadership for refining and strengthening the Framework and advancing its implementation across government, to ensure the Government of Canada achieves long-term outcomes that benefit people.
As a key part of its role, in March 2022, Statistics Canada launched a first version of Canada's Quality of Life Hub, bringing together key economic, social and environmental datasets to support the measurement of Canadians' quality of life. The Hub includes quality of life indicators, definitions, metadata and data as well as relevant releases and data products.
The Quality of Life Framework consists of a set of 84 indicators, organized into a series of domains: prosperity, health, society, environment and good governance. The Framework also includes two cross-cutting lenses which are applied across all of its domains: the Fairness and inclusion lens and the Sustainability and resilience lens.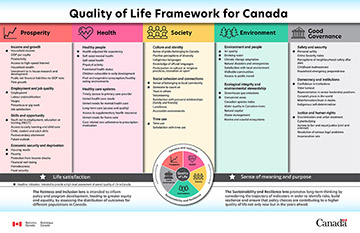 The Quality of Life Framework for Canada infosheet provides a visual illustration of the Framework, and a full list of its indicators.
For reference products related to the Quality of Life Framework for Canada please refer to Quality of life analysis and reference products.
Report a problem on this page

Is something not working? Is there information outdated? Can't find what you're looking for?

Please contact us and let us know how we can help you.
Date modified: